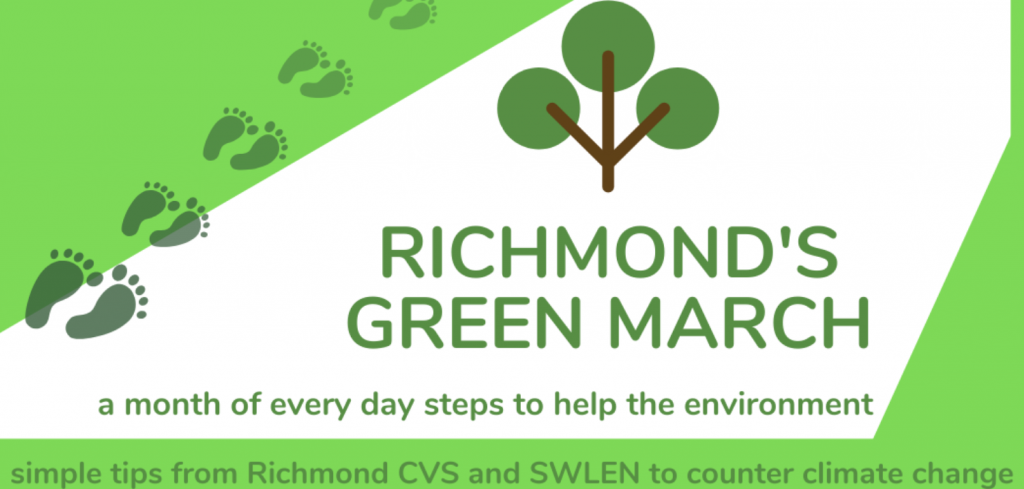 We have joined forces with South West London Environment Network (SWLEN) to lead the voluntary and community sector in Richmond's Green March. The recent Richmond Partnership Conference on Climate Change inspired us to focus on the message to take action now, however you can, to combat the Climate Change Emergency as declared by the Council.
We want to encourage every day engagement to combat the effects of climate change and have 

listed a few ideas and resources below.  They offer 

ways you can make a difference and be part of Richmond's Green March in 2020.
Get in

volved as an individual or with

 a group
Make a Change To Your Diet 
Join the national campaign to galvanise communities and individuals to litter pick and make their locality beautiful.
Travel
If you drive, could you change your usual travel habits for a day, or more a week?  Walk, cycle or run and get fitter and healthier too!
Planning a break?  You could choose somewhere closer to home and avoid flying.
Shopping
Try shopping locally, support Farmers Markets and buy seasonal food.
www.refill-larder.co.uk   - get your shopping free of plastic packaging and check for waste items that you can drop off for recycling too.
From clothes to household items, buying preloved from charity shops supports good causes as well as helping the planet.
Richmond Furniture Scheme  - Richmond's local furniture recycling charity accepts donations of unwanted pieces and helps those in need.
Richmond Freegle -  a community online reuse group for residents of Richmond and Twickenham to stop reuseable items going to landfill.
Freecycle - you can also join the local Freecycle group to find new homes for your unwanted items and items that you want.
www.nextdoor.co.uk could help you swap something you don't need for something you do without adding anything to landfill.
If you have to buy new, particularly for household appliances, check for the  best energy efficiency rating you can get.
Recycle Responsibly
TerraCycle  - search online for local recycling  points                                                                                                                                                                                            Tassimo, L'OR and Kenco waste can be dropped off at Sainsbury's Local in Hampton Hill                                                                                                                Crisp Packets  can be dropped off at private addresses in Teddington and Hampton Wick (search TerraCycle for the details)
Companies or organisations can get involved and become recycling partners and it can help you raise funds.
Kew Riverside School - a major recycling collection point for a wide range of items that can't be put in household recycling.                                    You can check with other local schools too.
Libraries-  you can dispose of small electrical items at all Richmond libraries except Kew and Hampton Wick.
Batteries can usually be recycled at any shop that sells them.
Other Events
Get on Board - Say No to Plastic Pollution,  26 June 2020
Sign up for Be Richmond's annual Stand Up Paddle Board and Towpath Community Litter Pick, running from Kew Bridge to Richmond.
Whether you're looking to discover somewhere new, join an educational talk, participate in an outdoor conservation day, or just fancy a social opportunity with like-minded people, there's a huge range of environmental activities available locally.
Check what's coming up on SWLEN's What's On Calendar and see what you could enjoy.
Go Green When You Volunteer
Choose a role with an organisation that impacts on climate change and reduces our carbon footprint such as: